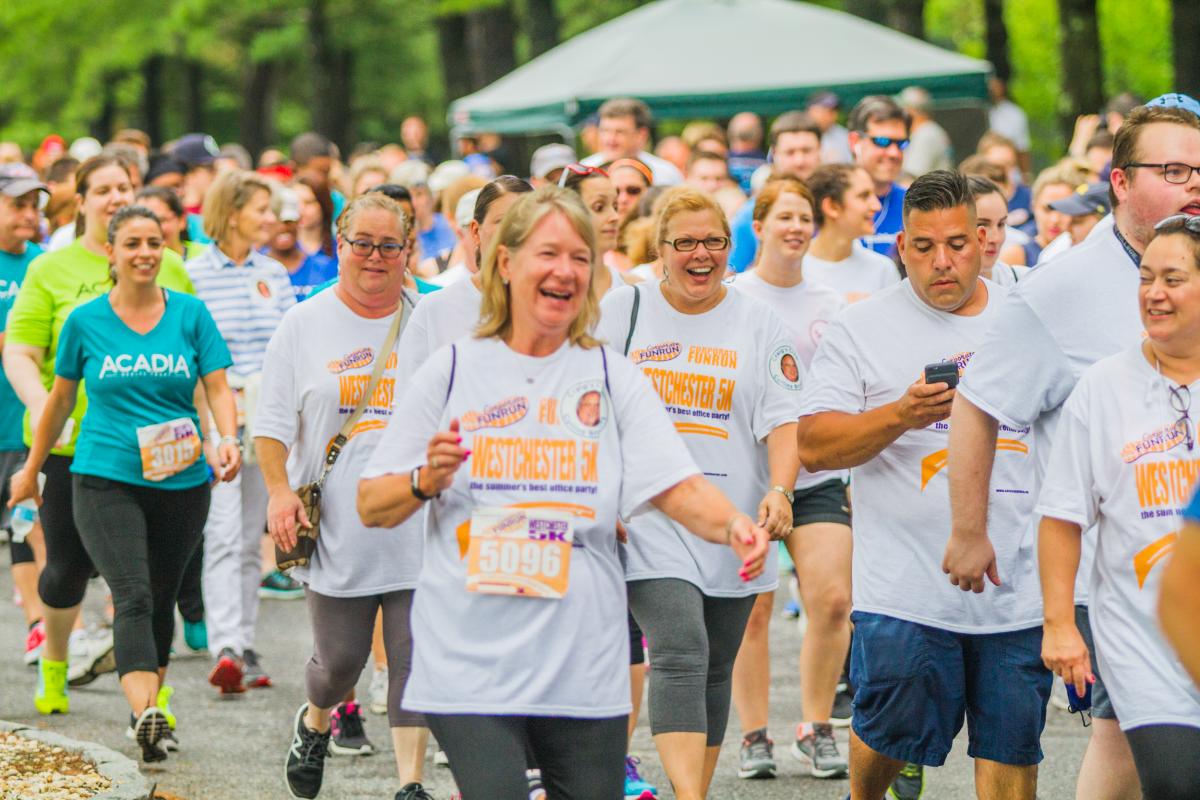 ANSWERS
How can I create a Team for my company to participate in the Corporate FunRun?
Participating in the Corporate FunRun is easy.
First, select the Event you wish to participate in.
Second, as Team Captain, please click the "Create Team" link and register.
Third, send your team's link to your co-workers to sign up.
Don't forget that you, as the Team Captain, need to join the team too if you plan to participate.
Can I sign up as an individual?
Yes, all individuals can sign up on-line as a guest of the Corporate FunRun team or simply show up and register themselves on race night.
What is a Guest?
All Corporate FunRun teams consist of a combination of employees and guests. Guests can be anybody who is not a full-time or part-time employee of the company. Typical guests includes spouses, friends, children above the age of 18, clients, prospects, patients, shoppers etc.
I am part of a company that wants to pay for all of its employees registration fees but we are unable to pay for our guests, what do I do?
We suggest that you register two teams in the event. The Company team and the Company Friends and Family team. The company team is "company/captain pays" and the Company Friends and Family team is "individual pays."
Why Is It Important to Wear a Race Number?
Because many people enter Corporate FunRun events, the only way we can properly identify you is by your race number. This becomes critically important in the event of a medical emergency. Our event is also covered extensively by the media and by an official event photographer.
The bib numbers are used to verify your identity. Because of this, race numbers are absolutely non-transferrable.
Where Should I Wear my Race Number?
Please pin it to the front of your shirt (we encourage all participants to wear their company's t-shirt). Do not fold or modify the bib because it will cause the timing chip to fail.
If you do not wear a race number, you and your company risk disqualification from the Corporate FunRun.
Are walkers allowed?
Yes. The Corporate FunRun is an event for all; racers, runners, and walkers. For safety purposes, however, baby strollers (and baby joggers) and non-service dogs are not allowed on the race course.
What are the eligibility requirements?
The Corporate FunRun is open to employers who can field a team with a minimum of either 3 full-time employees, 3 male; 3 females or either 2 male and 1 female or 2 female and 1 male.
Please refer to the Rule page on this website.
How much does it cost to register my team?
The cost is equal to the number of runners from your company times the per person entry fee posted on the website. There is no separate team entry fee.
Note, the Team Captain who creates the team has the option to either (1) pay for his/her team, (2) allow the Company to pay for the team &(3) allow each individual team member to pay his/her own entry fee.
Can I register a team or participant on race night?
We discourage race night registrations and strongly suggest that all teams and team members be registered by each event's respective registration deadlines, however, a small number of race night registrations will be available to teams and team members.
Do I get a Tee shirt?
Yes, all participants who have registered on-line by the deadline get a Corporate FunRun tee shirt. Tee shirts can be picked-up at any time during the night in the registration area.
My employer will be paying our team members' entry fees. How do I set up my team's payment method so that the individual participants are not charged?
As Team Captain, you must set your payment method as "Team Captain/Company Pays" when creating your team. If you've already created your team, then use the Contact Us page to let us know to change your payment method. You must pay for your team by the Payment Deadline via the Team Captain Tools.
My team members will be paying their own entry fees. How do I set up my team's payment method?
As Team Captain, you must set your payment method as "Individuals Pay for Themself" when creating your team. If you've already created your team and have not selected the proper payment method, then use the Contact Us page to let us know that you want to change your payment method.
How do we change our Team Captain?
Please either use the captain's tools or send an e-mail with the change information to Bruce Pienkny at brucep@corporatefunrun.com
Is there water on the race course?
Yes, water will be available before the race, on the race course and at the finish line.
Are there mile markers and split timing?
There are Mile 1 and Mile 2 markers on the course. No split timing.
Please tell me about the post-race party?
The post-race party featuring food, beer and music is an integral part of all Corporate FunRun events. At each event, corporate catering packages and/or food vouchers can be pre-bought from the event caterer by the team captain. Menus will be available on-line. For participants, a wide variety of food and beverages will be available for sale on-race night. Cash and credit cards are the preferred payment methods. Private hospitality can be arranged by contacting each event's corporate caterer.
How do I get to the race facility and where do I park?
Directions and parking information are available on each individual event page.
My company is interested in becoming an event sponsor. How can we make that happen?
Please call Bruce Pienkny, Director of Sponsorships, at (347) 844-9687 or e-mail him at brucep@corporatefunrun.com